Solomons Gold
Ethically sourced cacao beans from the pristine Solomon Islands are handcrafted in NZ into our delicious single-origin and 100% Free From chocolate and cacao products.
Solomons Gold is an Australian family owned cacao social enterprise and for over a decade they've been working with cocoa growers and local landowners in the Solomon Islands to assist them to produce one of the world's purest forms of single origin cacao, whilst also improving their standard of living.
Solomons Gold founder, Clive Carroll first visited the Solomon Islands back in 2004, with a view to being involved in the growing and processing of cocoa, when his love of dark chocolate became more than a passion. Clive came across a group of run-down cocoa plantations, and with agriculture firmly in his DNA from his father's avocado farms, it ignited a passion to bring these cocoa plantations back to life.
It was a long, slow process of transforming neglected plantations while also building new infrastructure for local village farmers. Clive also established a cocoa buying, processing and cocoa export business, and at the same time provided numerous farmers with technical advice and financial support to enable them to improve, not only the quality of their cocoa but their quality of life.
Today, they are one of the few chocolate companies in the world that control the entire process - from harvesting the cacao pods, hand grading the beans right through to handcrafting their bean to bar chocolate and cacao products. This bean to bar approach and their attention to quality ensures that they are able to consistently produce a premium, totally natural, single origin chocolate. They know where all their ingredients come from and only the best are selected.
They proudly use only organic ingredients and their products are 100% free of allergens (no dairy, gluten, nuts, soy) and are produced in their Kosher and HACCP certified factory. Their chocolate is some of the cleanest labels you will find on the market and their chocolate is made from only 2 ingredients - simply cacao + organic coconut sap sugar. They also produce a cacao + organic sugar formulation.
Being a bespoke producer, they can also tailor their chocolate to whatever their client's requirements are (ie: 60%, 80%, 100% cacao etc) and also tailor spec sizes for the nibs.
The beautiful, coastal town of Mount Maunganui in New Zealand is the perfect location for their chocolate factory not only because of its close proximity to the cacao plantations but it seemed fitting to establish the Solomons Gold brand in the beautiful 'clean and green' New Zealand. They work with a variety of gourmet and Vegan food producers as well as chefs in both New Zealand and Australia. Solomons Gold chocolate has won silver and bronze awards at the Academy of Chocolate Awards in London in 2017 and 2018.
The Solomon Islands close location to the equator means their cacao flourish in perfect natural conditions, and the natural growing methods and pristine ecosystem speaks for itself in terms of the flavour and quality of their beans. From the cacao plantations to their grading facility in Honiara, Guadalcanal, only the finest chocolate grade cacao beans are hand-selected and dried. Less than 5% of the total cocoa volume they handle is deemed good enough quality for Solomons Gold chocolate. They select only the very best beans.
The beans are then shipped to their chocolate factory in NZ where every step of the bean to bar process is carefully completed by hand. The cacao is roasted, cracked, winnowed, conched and tempered in small batches, using traditional artisan techniques. For Solomons Gold, it is what they don't put into their chocolate that makes them special.
For well over a decade Clive and his team have been working on the ground in the Solomon Islands and have been operating as a family owned social enterprise with the goal to assist local landowners and village cacao growers. Along the way there has never been a dull moment - whether it be travelling to extremely remote locations in the Solomon Islands to source cacao, working with Tribal village communities or seeing the destructive force of cyclones that have struck the region over the years. Through it all Clive has never lost focus on ensuring 100% sustainability and building a stable and a long-term cacao industry to benefit future generations of the Solomon Islands cocoa community. Today, it is these communities that remain at the very heart of the company and their passion for making chocolate.
Where to Buy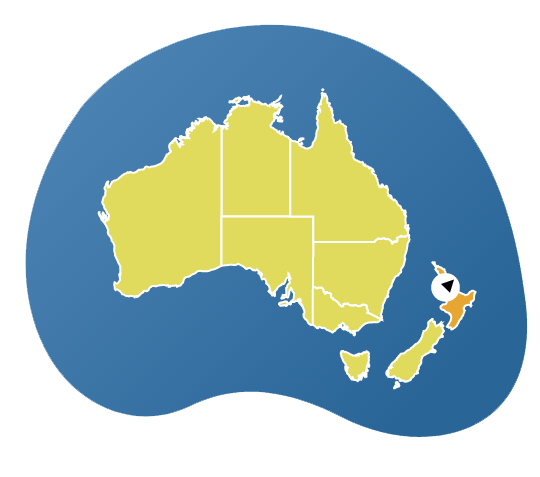 Bay of Plenty, NZ
0410461188
solomonsgold.co.nz
Facebook
Instagram
Related tags
Family-owned,
cacao social enterprise,
social enterprise,
single-origin,
bean to bar,
100% Free From,
Allergen Free,
award-winning,
small batch,
handcrafted,
cacao,
chocolate,
dairy free,
gluten free,
soy free,
nut free,
refined sugar free,
cane sugar free,
non-gmo,
gmo-free,
natural,
organic,
artisan,
delicious,
healthy,
cacao nibs,
social enterprise,
Australian owned,
Made in NZ,
Solomon Islands,
ethical,
sustainable,
vegan,
plant based,
nutritious,
antioxidants,
superfood,
hand-selected,
hand-graded,
premium,
food service,
wholesale,
retail
Stay Up To Date
Sign up to receive our monthly newsletter with upcoming events, producer-in-focus, food news and so much more.