Australian Flavours - delicious. magazine
Salt of the Earth - Straight To The Source takes delicious. Australia's Shannon Harley off the beaten track in the Grampians, Victoria to meet the region's producers. Issue: April 2016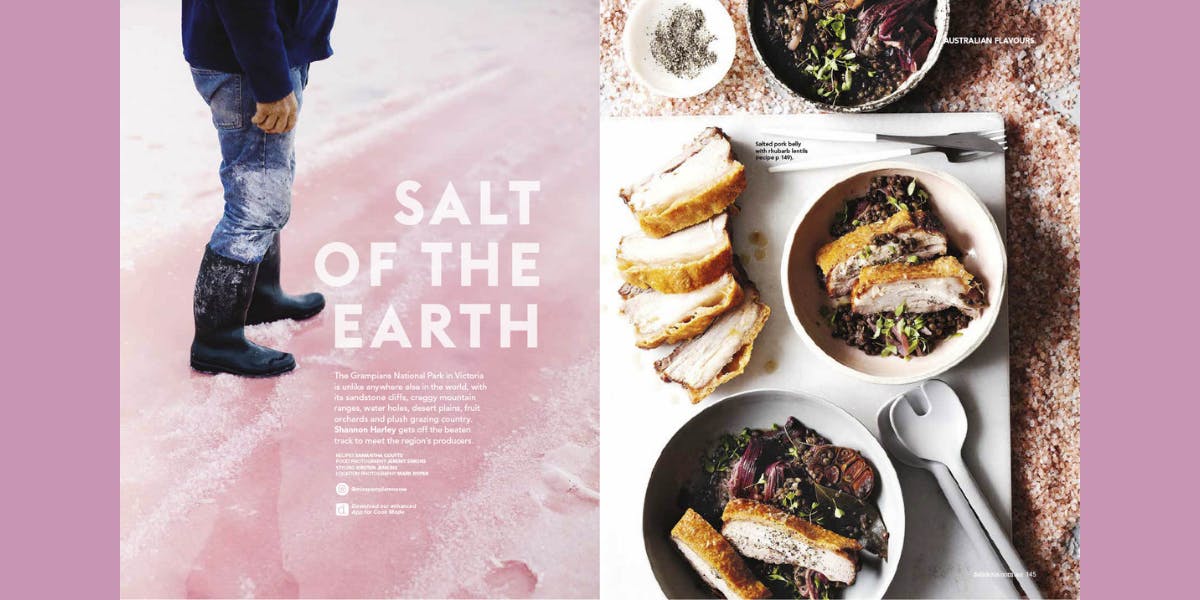 "The Grampians National Park in Victoria is unlike anywhere else in the world, with its sandstone cliffs, craggy mountain ranges, water holes, desert plains, fruit orchards and plush grazing country. Shannon Harley gets off the beaten track to meet the region's producers."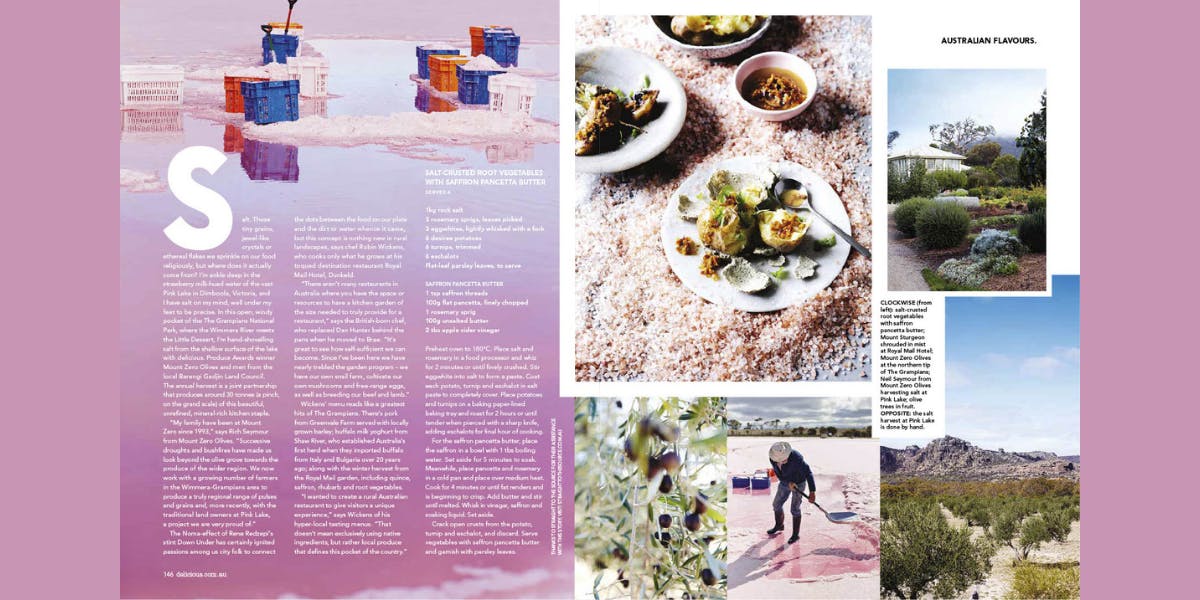 "Salt. Those tiny grains, jewel-like crystals or ethereal flakes we sprinkle on our food religiously, but where does it actually come from? I'm ankle deep in the strawberry milk-hued water of the vast Pink Lake in Dimboola, Victoria, and I have salt on my mind, well under my feet to be precise. In this open, windy pocket of the The Grampians National Park, where the Wimmera River meets the Little Dessert, I'm hand-shovelling salt from the shallow surface of the lake with delicious. Produce Awards winner Mount Zero Olives and men from the local Barengi Gadjin Land Council. The annual harvest is a joint partnership that produces around 30 tonnes (a pinch, on the grand scale) of this beautiful, unrefined, mineral-rich kitchen staple.
"My family have been at Mount Zero since 1993," says Rich Seymour from Mount Zero Olives. "Successive droughts and bushfires have made us look beyond the olive grove towards the produce of the wider region. We now work with a growing number of farmers in the Wimmera-Grampians area to produce a truly regional range of pulses and grains and, more recently, with the traditional land owners at Pink Lake, a project we are very proud of."
The Noma-effect of Rene Redzepi's stint Down Under has certainly ignited passions among us city folk to connect the dots between the food on our plate and the dirt or water whence it came, but this concept is nothing new in rural landscapes, says chef Robin Wickens, who cooks only what he grows at his toqued destination restaurant Royal Mail Hotel, Dunkeld.
"There aren't many restaurants in Australia where you have the space or resources to have a kitchen garden of the size needed to truly provide for a restaurant," says the British-born chef, who replaced Dan Hunter behind the pans when he moved to Brae. "It's great to see how self-sufficient we can become. Since I've been here we have nearly trebled the garden program – we have our own snail farm, cultivate our own mushrooms and free-range eggs, as well as breeding our beef and lamb."
Wickens' menu reads like a greatest hits of The Grampians. There's pork from Greenvale Farm served with locally grown barley; buffalo milk yoghurt from Shaw River, who established Australia's first herd when they imported buffalo from Italy and Bulgaria over 20 years ago; along with the winter harvest from the Royal Mail garden, including quince, saffron, rhubarb and root vegetables.
"I wanted to create a rural Australian restaurant to give visitors a unique experience," says Wickens of his hyper-local tasting menus. "That doesn't mean exclusively using native ingredients, but rather local produce that defines this pocket of the country."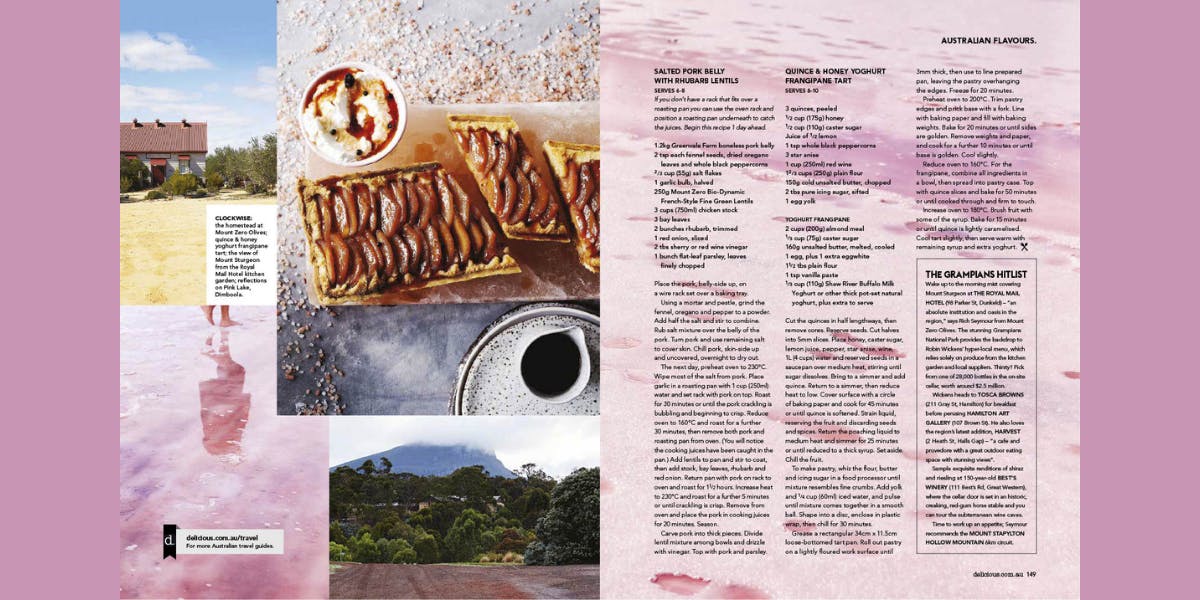 Words: Shannon Harley; Recipes: Samantha Coutts; Food Photography: Jeremy Simons; Styling: Kirsten Jenkins; Location Photography: Mark Roper
You might also be interested in:
From Humble To Hero: A Culinary Masterclass
Concept to Consumer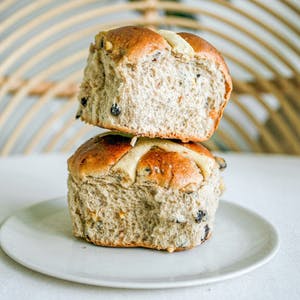 The History Of The Hot Cross Bun
Sign up and we'll serve you news, views and big ideas