Concept To Consumer
The essential food science course presented by Straight To The Source and Quantal Bioscience, in partnership with UNOX Australia.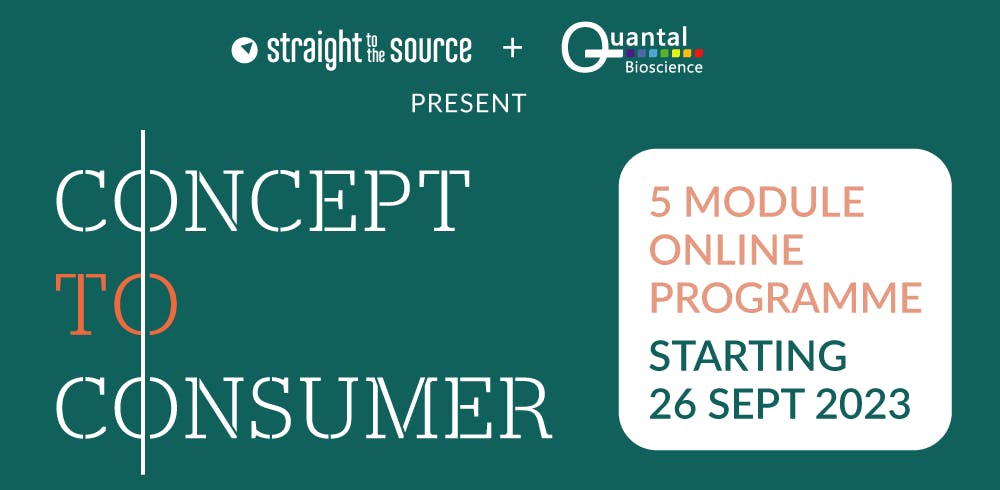 Chefs, Producers, Product Developers
Have a food product idea or an existing food product and are looking for food science guidance and direction on safe food production, including state and federal regulatory requirements?
Concept To Consumer is our online course covering everything from food safety hazards through to packaging considerations. Concept To Consumer helps small-batch, large-scale, or co-manufacturing producers develop new and emerging products for commercial sale and scale. 
The NEXT ONLINE PROGRAMME will commence Tuesday, September 26, 2023
Who is this course for? Food or beverage manufacturers, co-manufacturers, chefs wanting to develop their own product range, artisan producers
How long is the course? The Online Programme includes 5 x 1.5 hour modules delivered over 7 weeks; the exact session dates & timings are dependent on the elective modules you select.
What will it cover? This course will equip you with the resources to protect you and your business against the risk of product recall, batch spoiling, and shelf-life variations. The sessions are interactive and we encourage you to ask any questions you may have; for example, common questions often arise around health claims, labelling specifications, nutritional calculations, date marking and recall procedures.
Whether you're a small-batch artisan producer, chef or large-scale manufacturer, you'll be able to select the modules best suited to your needs.
What are the Online Program inclusions?
5 online modules (2 core + 3 electives) PLUS 2 one-on-one consultancy sessions PLUS access to an online Programme Resources Platform where session recordings can be accessed anytime, and additional learning resources are also available.
2 Core Modules:
Food Safety Hazards (Core Introductory Module) - Tuesday, September 26, 3pm-4:30pm
Food Safety Regulations (Core Module) - Tuesday, October 3, 3pm-4:30pm
Then, select 3 Elective Modules from the following module list:
Date Marking of Food - Tuesday, October 10, 3pm-4:30pm
Packaging Considerations - Tuesday, October 10, 5pm-6:30pm
Raw Materials Specifications - Tuesday, October 17, 3pm-4:30pm
Choosing your Suppliers - Tuesday, October 17, 5pm-6:30pm
Is my product high-risk? - Tuesday, October 24, 3pm-4:30pm
Getting set up, for getting it right - Tuesday, October 24, 5pm-6:30pm
Challenge & Shelf-Life Testing - Tuesday, October 31, 3pm-4:30pm
Putting Science to Work - Tuesday, October 31, 5pm-6:30pm
Choosing a Co-Manufacturer - Tuesday, November 14, 3pm-4:30pm
Navigating Retail Requirements - Tuesday, November 14 5pm-6:30pm
How much does it cost?
Online Programme (2 core + 3 elective modules) = $880 (inc GST)
Add-on Elective Modules = $220 (inc GST) per Additional Module 
Who's involved? This programme brings together the combined industry expertise of Straight To The Source and Quantal Bioscience, each with over 20 years of hands-on experience in a safe food product range development, giving you all the knowledge and tools you need in a flexible and accessible online course. And we're proud to partner with UNOX Australia whose innovative and cutting-edge technology is at the forefront of commercial kitchen equipment solutions. 
Still got questions? Please book a time for a chat HERE and one of the team at Straight To The Source will give you a call. 
Click on the 'Buy Tickets' link to find out more, enrol and join a cohort of like-minded business owners wanting to commercialise and scale.
Share this event
Stay Up To Date
Sign up to receive our monthly newsletter with upcoming events, producer-in-focus, food news and so much more.